Did you know that postcards, letters and flyers are still an effective way to send your message? Direct mail has the power to deliver a personal touch that often can't be achieved through other kinds of marketing, such as digital. Here are a few advantages of using direct mail:
1. You can target specific demographics – If you know who your ideal customer is, you can use direct mail services to reach them. You can tailor mailers to a certain age group, income level or even location.
2. It's cost effective – Compared to other forms of marketing, direct mail offers great value for the money, and you can track results easily with response rates and call tracking numbers.
3. Personal Touch – Direct mail has a unique ability to make a connection with potential customers. A personal letter or card can create a bond and leave a lasting impression ion those who receive them.
Direct mail is a great way to get the word out about your business, so don't forget it when you're mapping out your marketing strategy. Get creative and make sure your message stands out in the mailbox!
Media Monkey offers a variety of direct mail services, including List Targeted Mailing, Saturated Mailing, and Hybrid Mailing. Below you will find a breakdown of these types of mailing so you can get a better idea of which service may be right for you!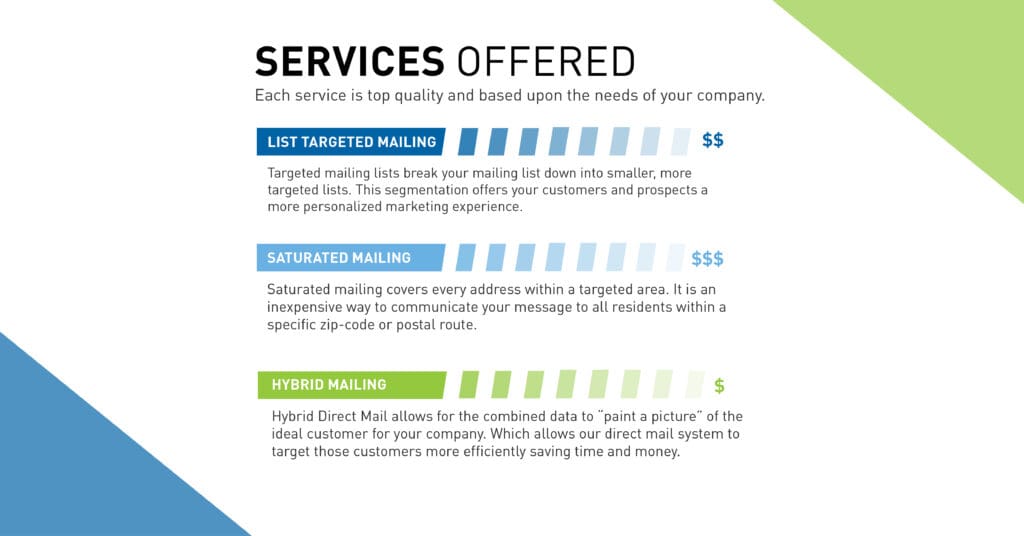 Using our direct mail services, you can offer deals and coupons to customers to entice sales, let the public know you are hiring, hosting an event, or simply remind them that you're still around. No matter what your goals are for your marketing efforts, direct mail can be a great way to reach potential customers and keep existing ones engaged.
Let us know if you have any questions, or if you would like to start an order.
Happy mailing!
-The Media Monkey Team
If you liked this article, then please follow us on Twitter and Facebook.